Digitála sátnegirjjid sajáiduhttin

På norsk

In English

Suomeksi

По-русски
Sajáiduhttin: Mac OS 10.5 dahje ođđasat
Jos dus lea Mac OS 10.5 dahje ođđasat, de sáhtát geavahit Apple iežas Dictionary- dahje Ordliste-prográmma.
Viečča sátnegirjefiilla(id):
Sátnegirjefiila maid leat viežžan, lea páhkkejuvvon (.zip), ja don fertet dan rahpat (duppalklikket). Boađus lea máhppa mii lea dego legobircu oaidnit:

Sirdde legobirccu (fiillaid) máhppii

~/Library/Dictionaries

, fuobmá ahte ~/Library namma sáhttá maid leat

Bibliotek

,

Kirjasto

dahje juoga eará, das gitta makkár giella du dihtoris lea. Vuollemáhpa namma galgá leat

Dictionaries

, beroškeahttá giellaválljemis. Ráhkat dakkár máhpa dihtorii, jus ii leat.

Jus it gávnna ~/Library-máhpa Finder-láses, de fertet rahpat Terminal-prográmma, maid gávnnat dáppe: Applications - Utilities - Terminal dahje Programmer - Verktøy - Terminal. Čále dán kommando Terminal-lásii ja deaddel enter:

	chflags nohidden ~/Library

Dál galgá ~/Library-máhppa oidnot Finder-láses. ~/Library-máhppa lea njuolga du geavaheaddjikonto vuolde.
Válmmas!
Sátnegirjji geavahit
Sániid ozat Apple iežas Dictionary- dahje Ordliste-prográmmain, maid gávnnat Applications- dahje Programmer-máhpas (sátnegirjeprográmma namma molsašuddá gielas gillii, muhto ikona lea bábersátnegirjji govva).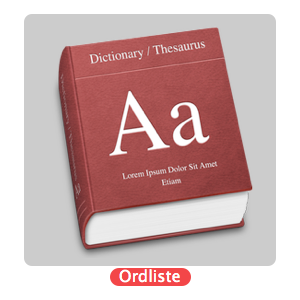 Dictionary-prográmmas leat jo muhtun sátnegirjjit - earret eará leat jo eŋgelasgiel ja japánagiel sátnegirjjit vuogádagas. Don sáhtát Dictionary-prográmmas válljet, jáddadit ja sirddašit sátnegirjjiid dás: Dictionaries - Option dahje go deaddilit dáid boaluid: command-, (⌘,). Option-panelas sáhtát válljet ja jáddadit sátnegirjjiid dan mielde guđe sátnegirjji háliidat geavahit.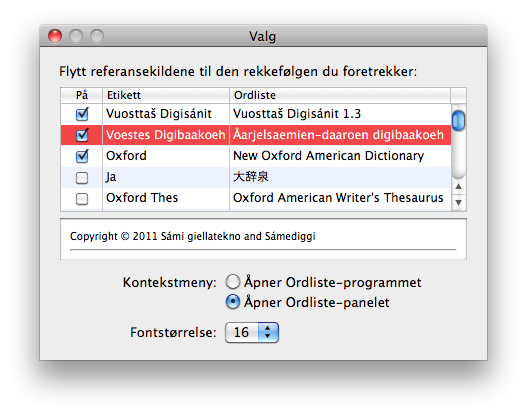 Mac-prográmmain (omd. Safari, Mail, SubEthaEdit) sáhtát geavahit sátnegirjji ná: Čujut sáhpániin sátnái maid háliidat jorgalit ja deaddel boallobeavddis dáid boaluid: ctrl-command-D (⌃⌘D). De galgá ihtit dan sáni jorgalus jus dat sátni lea sátnegirjjis. Daid sátnegirjjid sánit mat leat bajimusas Option-panelás, čájehuvvojit bajimusas go geavahat sátnegijji nugo čilgejuvvon dás.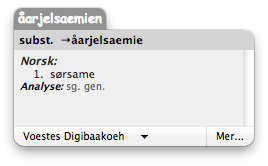 Dás sáhtát molsut dán boallokombinašuvnna mainna ozat sániid sátnegirjjis: System settings - Keyboard and mouse - Keyboard shortcuts > Search with Dictionary.